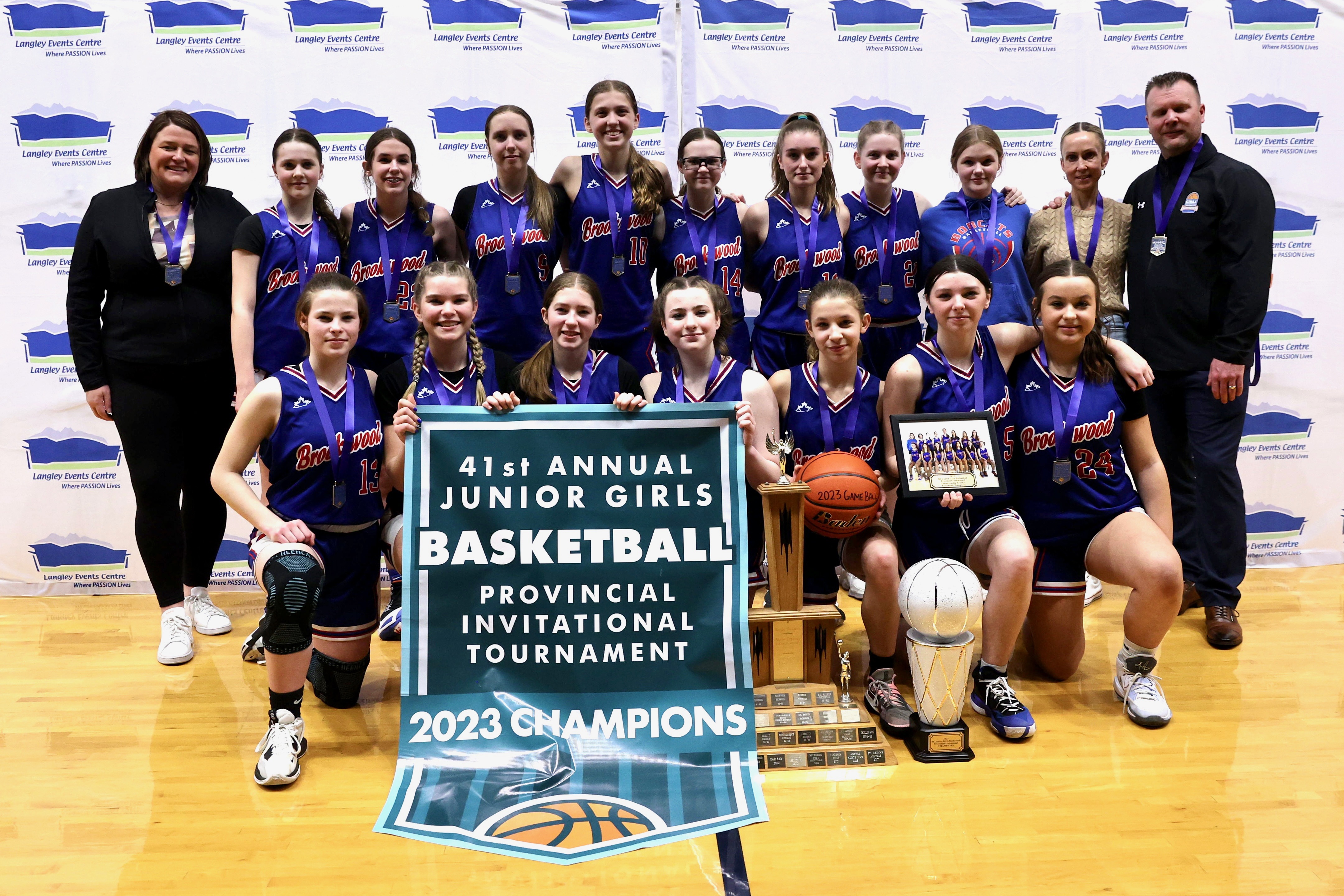 Langley's Brookswood Bobcats won the 2023 Junior Girls Basketball Provincial Invitational Tournament championship with a 49-36 win over the Oak Bay Breakers on March 4 at Langley Events Centre. photo courtesy of Garrett James LEC
A second-half rally helped the Brookswood Bobcats capture the Junior Girls championship title.
Brookswood shook off a tough first half where they scored just 19 points for a come-from-behind 49-36 victory over the Oak Bay Breakers. The two teams were playing on Saturday afternoon at Langley Events Centre in the gold-medal game of the Junior Girls Basketball Provincial Invitational Tournament.
And it was a pair of Grade 8s who led the way.
Jordyn Nohr – the catalyst for the Bobcats offence and came in averaging nearly 28 points per game – had just 8 first half-points as she was consistently surrounded by multiple Breakers' defenders.
But with Nohr being held in check – she still finished with 19 points – Brookswood went to inside to fellow Grade 8er Ashley Vande Ven, as the 6-1 forward scored 15 points to help the Bobcats seal their first Junior Girls title since 2011.
Nohr and Vande Ven each finished with 19 points.
Brookswood came in as the third seed for the 24-team tournament while Oak Bay was the No. 1 seed with the Breakers leading by nine points after the first quarter thanks to 11 points (and three triples) from Eden Henderson. Henderson would hit one more 3-pointer in the second quarter but that would her last field goal of the game as she was limited to three made free throws in the second half.
Bobcats coach Chrissy Nohr said the team's focus was to key on Henderson, doubling her at every opportunity, and with the Breakers' best player unable to generate any more points, the team's offence struggled, scoring 18 points in the first 8 minutes, but then just 18 points combined over the final 24 minutes.
Jordyn Nohr was selected as the Most Valuable Player while her teammate, Emma Lehnhoff won the Most Outstanding Defensive Player. Vande Ven (Brookswood), Henderson (Oak Bay), Jessiah Brehaut (Oak Bay), Lola Reimer (M.E.I.) and Sophie Nicholson (Argyle) were selected First Team All-Stars.
The Second All-Star consisted of Shae Sandhu (Okanagan Mission), Maeva Carnahan (Yale), Isabella Miljkovic (Argyle), Olivia Sidhu (M.E.I.) and Adelle Bergmann (Oak Bay).
The Most Sportsmanlike Team award went to the G.W. Graham.
And in the bronze medal game, M.E.I. defeated Argyle 60-43.
-30-