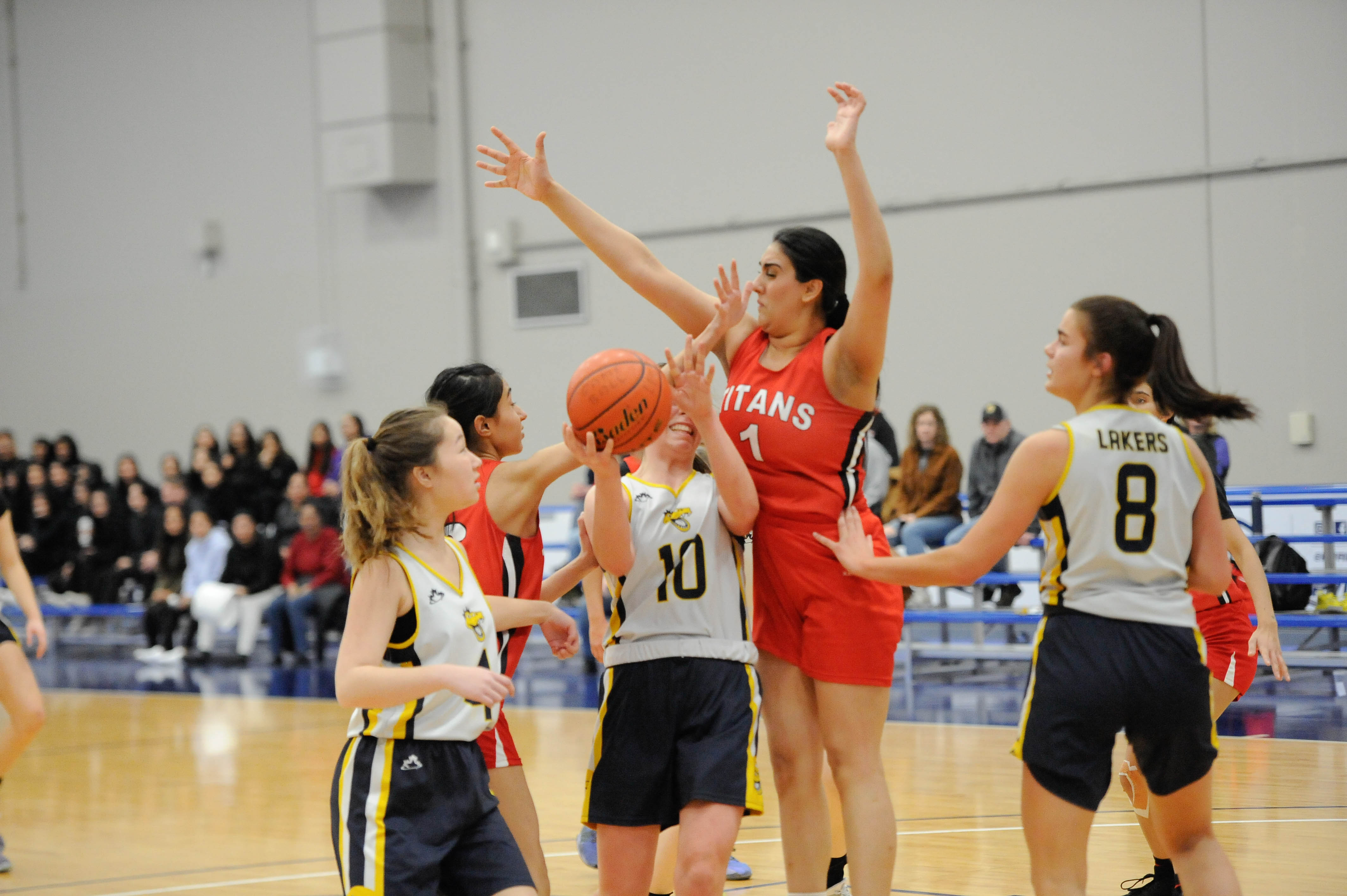 The Abbotsford Traditional Titans defeated the Kalamalka Lakers 57-50 in round one of the BC School Sports 2A Girls Basketball Provincial Championships at Langley Events Centre. Gary Ahuja LEC photo
Six of the top eight seeds advanced on day one of the BC School Sports 2A Girls Basketball Provincial Championships at Langley Events Centre on March 1.
The top-seed Mulgrave Titans won handily over the No. 16 Shas Ti Kelly Road Grizzlies, 93-19. Jenna Talib led the Titans' balanced attack with 20 points. Up next for Mulgrave will be a quarter-final clash with the No. 9 Abbotsford Traditional Titans. The Titans rode a 27-point performance from Janeesh Sran to edge the No. 8 Kalamalka Lakers 57-50. The Lakers had jumped out to a 12-0 lead and were up 21-4 before Abbotsford Traditional outscored Kalamalka 23-7 in the second quarter.
The other quarter-final on the top half of the draw will feature the No. 4 Holy Cross Crusaders against the No. 5 St. Thomas More Collegiate Knights after each team posted narrow victories in their respective opening round games.
The Crusaders were 63-53 winners over the 13th seed Abbotsford Christian Knights with Samantha Isidro leading the Crusaders with 18 points. Naomi Brown was tops for the Knights with 14 points, including four triples.
St. Thomas More Collegiate scored the game's final six points in their 50-44 win. Demicah Arnaldo led the Knights with 17 points while Jensa Napier-Ganley led Brentwood College – and all scorers – with 19 points.
The Fernie Falcons needed overtime but were 78-73 winners over the A.R. MacNeill Ravens as the tenth seed pulled off the upset over the No. 7 Ravens. Kadei Anderson (29 points) and Cassie Fahselt (20 points) led the way for the Falcons. The Ravens were led by the heroics of Kim Tiu, who scored 49 points in the loss.
Up next for Fernie is a date with the defending 2A champion Langley Christian Lightning after they were 67-39 winners over the Lambrick Park Lions. Colette Van der Hoven scored 19 in the victory while Macy Hogg had 20 for the Lions.
Day 2 action tips off at 8:30am. For full schedule, scores, game sheets and more information, please visit http://www.bchighschoolbasketballchampionships.com/2agirls/2
Single game and tournament passes are available for sale online. Games are also available to stream through pay-per-view at tfsetv.ca.