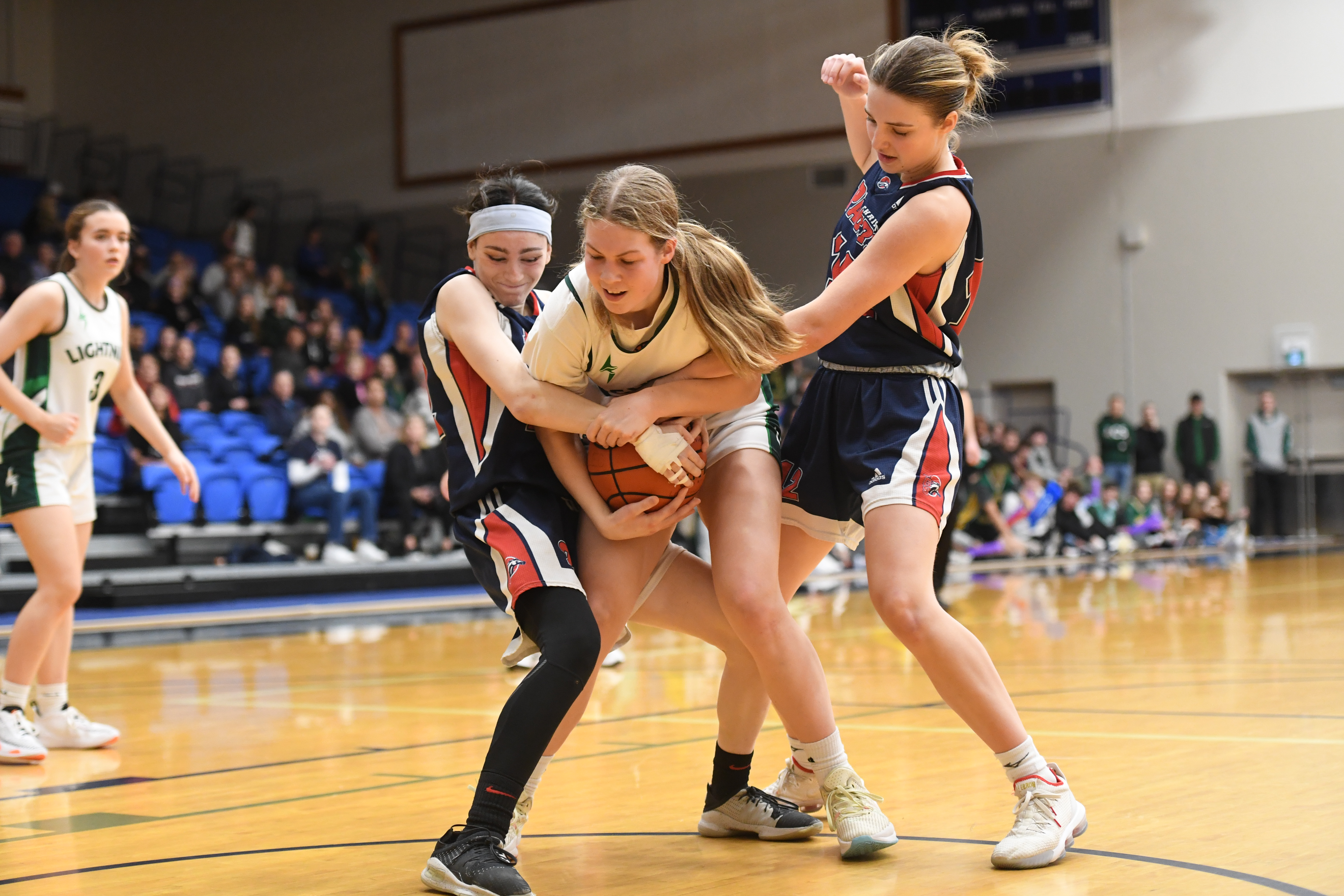 Pacific Christian edged Langley Christian 48-46 in the BC School Sports 2A Girls Basketball Provincial Championships. They now play the Mulgrave Titans for the 2A Tournament title. photos courtesy of Vancouver Sports Pictures
One thing is certain: whoever wins on Saturday with capture the first BC School Sports 2A Girls Basketball Provincial Tournament title in program history.
The Mulgrave Titans are making just their second appearance in 2A Tournament history, having finished second in 2022. Their opponent in Saturday's championship final is also a relative newcomer as this is Victoria's Pacific Christian Pacers third time at the event. The Pacers are already guaranteed a best-ever finish.
The winner will be decided on Saturday (March 4) at 3:30pm as the four-day, 16-team event concludes at Langley Events Centre.
Pacific Christian Pacers 48 Langley Christian Lightning 46
Despite a first quarter where they scored just a single field goal, the Pacific Christian Pacers found their game the rest of the way, ousting the Langley Christian Lightning 48-46.
The Lightning led by as many as 14 points before the Pacers went on a 15-2 run to close the third quarter and tie the score, and then carried that momentum into the fourth where they struck for another quick seven points to take the lead for good.
Langley Christian did have the ball with seconds remaining but could not get a good look at the basket, forced to launch a shot from well beyond the arc.
Joalea Tupas-Singh (16 points, 8 rebounds, 3 steals), Eden Kremler (12 points, 7 rebounds) and Kealey Tupas-Singh (11 points, 5 rebounds, 4 steals) led the way for the Pacers. Leah Aukema led the Lightning with 13 points and nine rebounds.
Mulgrave Titans 85 Holy Cross Crusaders 36
The top-ranked Mulgrave Titans were too much for the Holy Cross Crusaders as the No. 1 seed crushed their fourth-ranked opponent 85-36.
Four Titans finished in double figures, led by Jenna Talib's 24 points. She also had six rebounds and three assists. Eva Ruse finished with a monster double-double of 14 points and 15 rebounds, also dishing out four assists and a pair of steals. Lucy Xu (21 points, 5 rebounds) and Ava Wilson (20 points, 8 rebounds, 8 assists) both also cracked the 20-point mark.
Isla Iannuzzi's 10 points led Holy Cross.
-30-