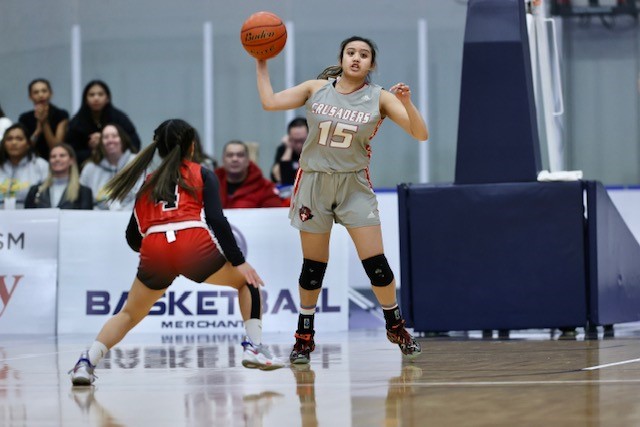 The Holy Cross Crusaders edged the St. Thomas More Collegiate Knights to advance to the semi-final round at the BC School Sports 2A Girls Basketball Provincial Tournament. photo courtesy of Vancouver Sports Pictures
It is down to the final four at the BC School Sports 2A Girls Basketball Provincial Tournament.
The defending champion Langley Christian Lightning used a dominant second quarter where they outscored the Fernie Falcons 30-2 to blow open their quarter-final contest over the Fernie Falcons. The Lightning were up 23-20 before they delivered a dominant 10-minute stretch to win 87-59.
Grace Bradshaw (30 points) and Colette Vanderhoven (24 points) led the way for the Lightning while Kadie Anderson countered with 37 for the Falcons.
Langley Christian's semi-final opponent will be the No. 3 Pacific Christian Pacers, after the Victoria school held off the No. 6 Notre Dame Jugglers 75-70. Abi Ellison (25 points) and Joaleah Tupas-Singh (23 points) led the Pacers. Emily Chan with 22 points.
The other semi-final game has the top seed Mulgrave Titans and the fourth seed Holy Cross Crusaders. The Crusaders edged the fifth-seeded St. Thomas More Collegiate Knights 48-46 while Mulgrave topped the No. 9 Abbotsford Traditional Titans 63-35 in a battle of the Titans.
Mulgrave's Ava Wilson had 18 points and Abbotsford Traditional's Janeesh Sran scored 18.
In the Holy Cross contest, the Crusaders scored the final four points to eke out the victory. Isla Iannuzzi had 18 to lead the Crusaders and Danica Fontana scored 12 for the Knights.
For full schedule, scores, game sheets and more information, please visit http://www.bchighschoolbasketballchampionships.com/
Single game and tournament passes are available for sale online. Games are also available to stream through pay-per-view at tfsetv.ca.