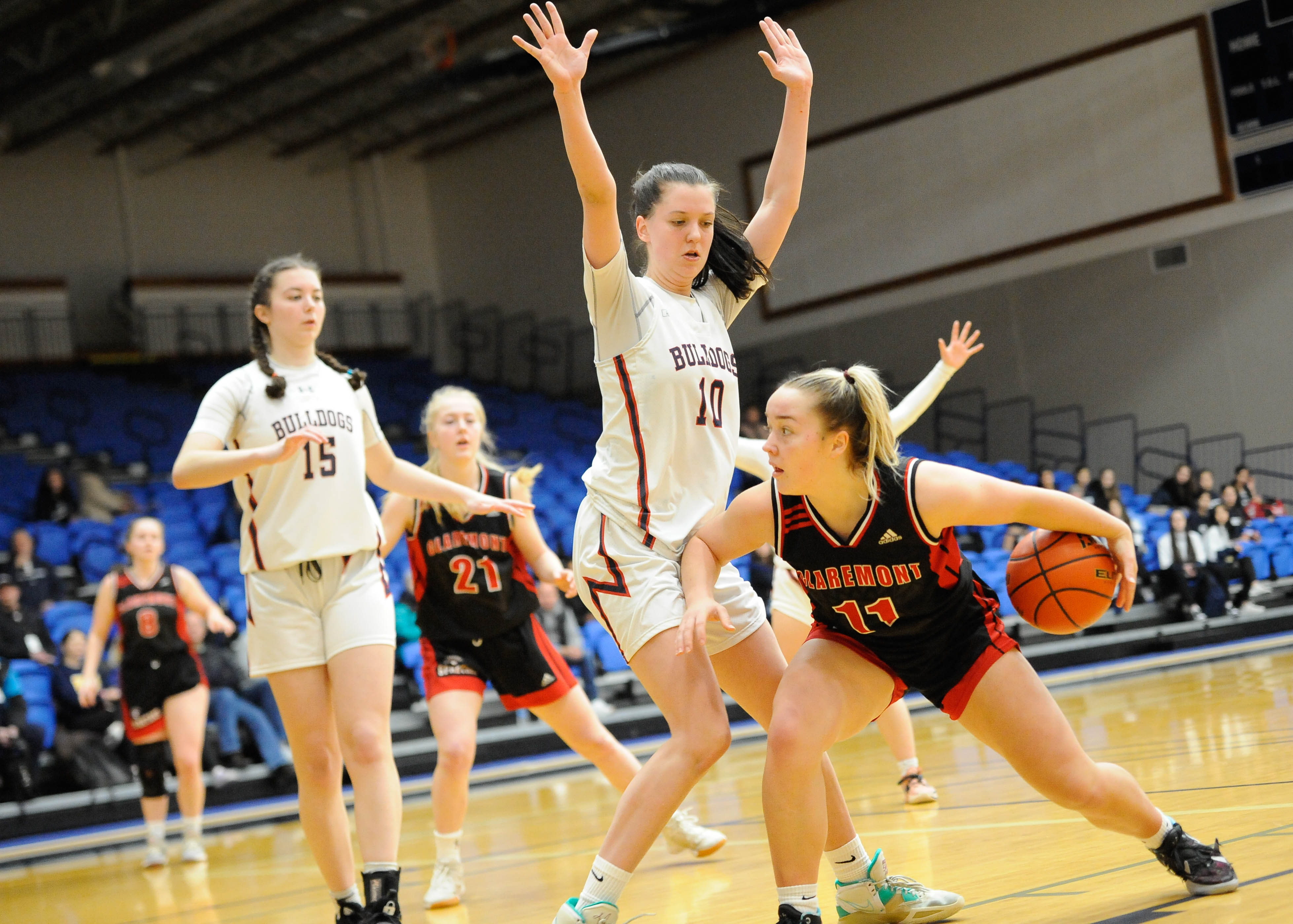 The Claremont Spartans upset the Sir Winston Churchill Bulldogs in round. Gary Ahuja LEC photo
Seven of the top eight seeds advanced on day one of the BC School Sports 4A Girls Basketball Provincial Championships at Langley Events Centre.
One year ago, Kiera Pemberton averaged nearly 42 points per game at the 2022 4A Girls Tournament, and in Wednesday's opening round game, she picked up right where she left off, scoring 44 points at the No. 1 Gators crushed the 16th-seed Mount Baker Wild 97-30. The Gators next opponent will be the No. 9 Claremont Spartans, after the Victoria school edged No. 8 Sir Winston Churchill Bulldogs 67-60. Adia Pye led the Spartans with 27 points while Stefanie Hart led the Bulldogs with 17.
Maggy Curtis scored 27 points and Jay Hildebrand had 14 as the No. 4 Yale Lions bested the No. 13 Charles Best Blue Devils 75-49. Jessica Parkinson had 13 to top the Blue Devils. The Lions next opponent will be the fifth seed Seaquam Seahawks, who were 85-47 winners over the No. 12 Reynolds Roadrunners. Seaquam had five players finish in double digits, led by Nyssa Sunner's 23. Saige Parfitt scored 17 for Reynolds.
Matching 19-point efforts from Mav Chahal and Avery King led the No. 6 Kelowna Owls to a 72-42 win over the No. 11 South Delta Sun Devils. Kaija Rutledge had 17 to pace the Sun Devils. Up next for the Owls is a quarter-final clash against the third seed Riverside Rapids, who were 85-56 winners over the 14th-seed R.E. Mountain Eagles. Avery Sussex scored 25 for Riverside while Ava Mort led the Eagles with 21.
The final two opening round matches saw the Okanagan Mission Huskies (No. 7) beat the No. 10 Heritage Woods Kodiaks 88-47 behind a 28-point effort from Kanani Coon. Rhyanne Head led the Kodiaks with 11 points.
Up next for the Huskies will be a date with the No. 2 seed Burnaby Central Wildcats, following their 92-30 win over the No. 15 Prince George Polars. Ankita Chopra's 22 points led the Wildcats while Brooke MacDonald scored 14 for Prince George.
Day 2
Day 2 action tips off at 8:30am. For full schedule, scores, game sheets and more information, please visit http://www.bchighschoolbasketballchampionships.com/4agirls/
Single game and tournament passes are available for sale online. Games are also available to stream through pay-per-view at tfsetv.ca.