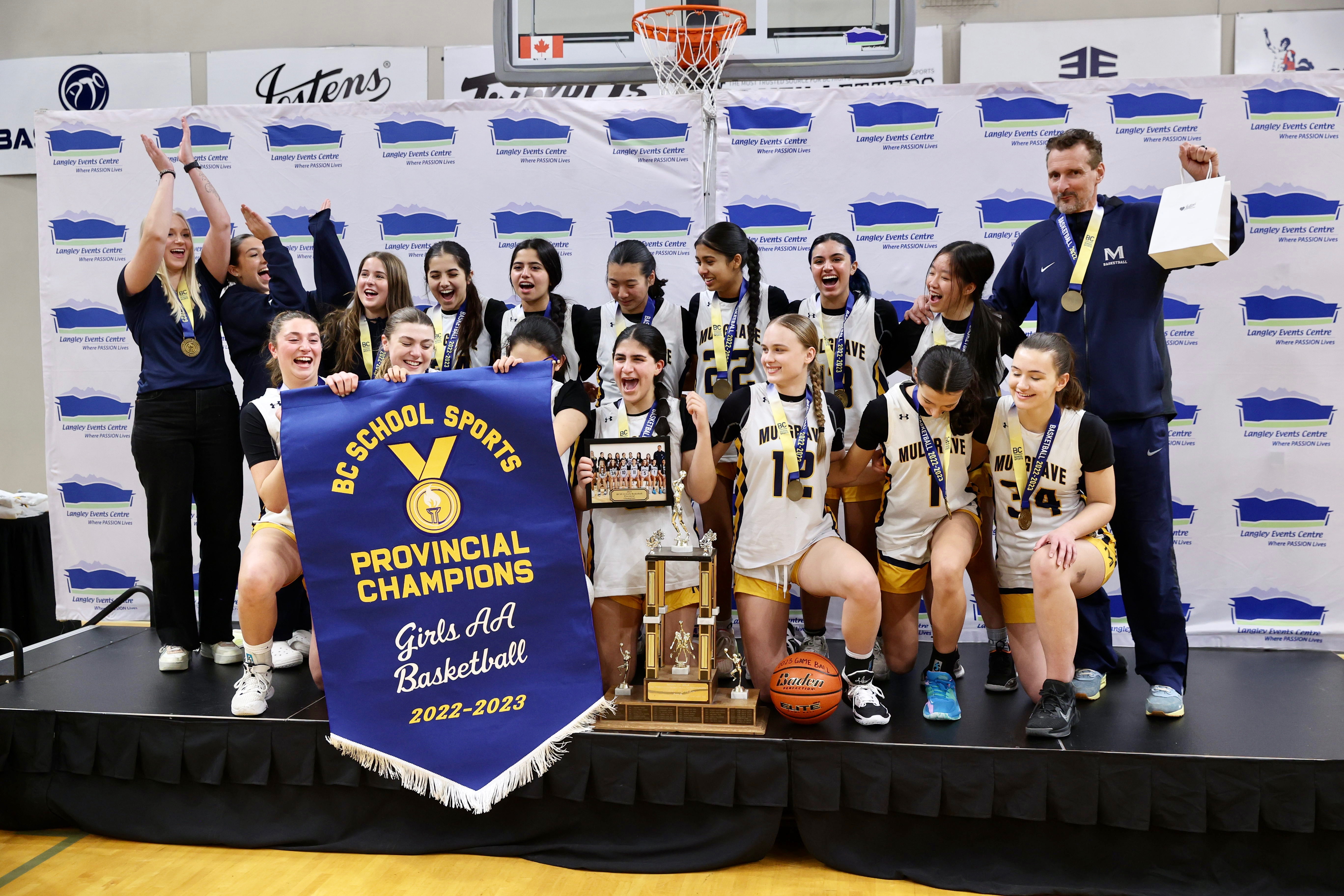 The Mulgrave Titans captured the BC School Sports 2A Girls Basketball Provincial Tournament title on March 4 at Langley Events Centre. photo courtesy of Garrett James LEC
WIN: What's important now.
That was the message Mulgrave Titans head coach Claude Leduc preached to his team.
"The theme all tournament was just stay loose, enjoy the moment and focus on what's important now and stay in the moment," he said in the moments following his team's decisive 91-53 win over Victoria's Pacific Christian Pacers in the championship final of the BC School Sports 2A Girls Basketball Provincial Tournament at Langley Events Centre on Saturday afternoon.
Mulgrave came out firing in the final, scoring 50 first-half points and finishing the game shooting 14-for-31 (.452) from beyond the arc. Lucy Xu (30 points) and Jenna Talib (27 points) each sank six triples. Xu was named the Championship Player of the Game. Ava Wilson finished a rebound short of a triple-double with 14 points, 12 assists and nine rebounds. She also had a steal and a blocked shot.
Pacific Christian was led by sisters Joaleah Tupas-Singh (16 points, 8 assists, 7 steals and 4 rebounds) and Kealayna Tupas-Singh (15 points and 3 assists).
The Titans – the tournament's top seed – found themselves in the exact same spot as a year ago, playing for the gold medal. Last year, the West Vancouver school was led by their Grade 10 core but came up 10 points short, but the loss was a learning experience.
"We learned about the grit and toughness and preparation that is required to be successful. They learned that they needed to act like seniors – hydrate, rest, sleep, work hard," Leduc said.
"We have been to the provincials at the 1A level a bunch of times, but have never been able to close it out, so to do to it at the 2A level the second time around, it means a lot."
With that loss acting as motivation, the Titans were ranked first from the start of the year to end, with their only defeats coming at the hands of 3A and 4A competition.
And Mulgrave continued to be a juggernaut over the past four days, winning by an average of more than 47 points as their combination of length, athleticism and speed makes them a matchup nightmare for opponents.
Leading the way is Eva Ruse, the 2022 Most Outstanding Defensive Player, who added the 2023 Most Valuable Player award to her trophy case. Ruse finished with 11 points, a game-high 15 rebounds and four assists.
"She is on another level. She makes her teammates better, she does everything. She has the heart of a champion, competes, battles, great leaper, can finish," Leduc said.
The coach also called this the best team he has ever coached.
"They work hard, they are committed, they can score in a bunch of different ways, and when they commit to defence like they did this tournament, they are impossible to beat," he said.
With Ruse won the MVP award, the Pacers' Joaleah Tupas-Singh was selected the Most Outstanding Defensive Player.
Kealayna Tupas-Singh (Pacific Christian), Jenna Talib (Mulgrave), Ava Wilson (Mulgrave), Grace Bradshaw (Langley Christian) and Colette Vanderhoven (Langley Christian) were named First Team All-Stars. Ella Ungemach (Notre Dame), Isla Iannuzzi (Holy Cross), Janeesh Sran (Abbotsford Traditional) and Lucy Xu (Mulgrave) were selected Second Team All-Stars.
The Shas Ti Kelly Road Grizzlies were selected the Most Sportsmanlike team and in the bronze medal game, Langley Christian defeated Holy Cross 61-39.
-30-