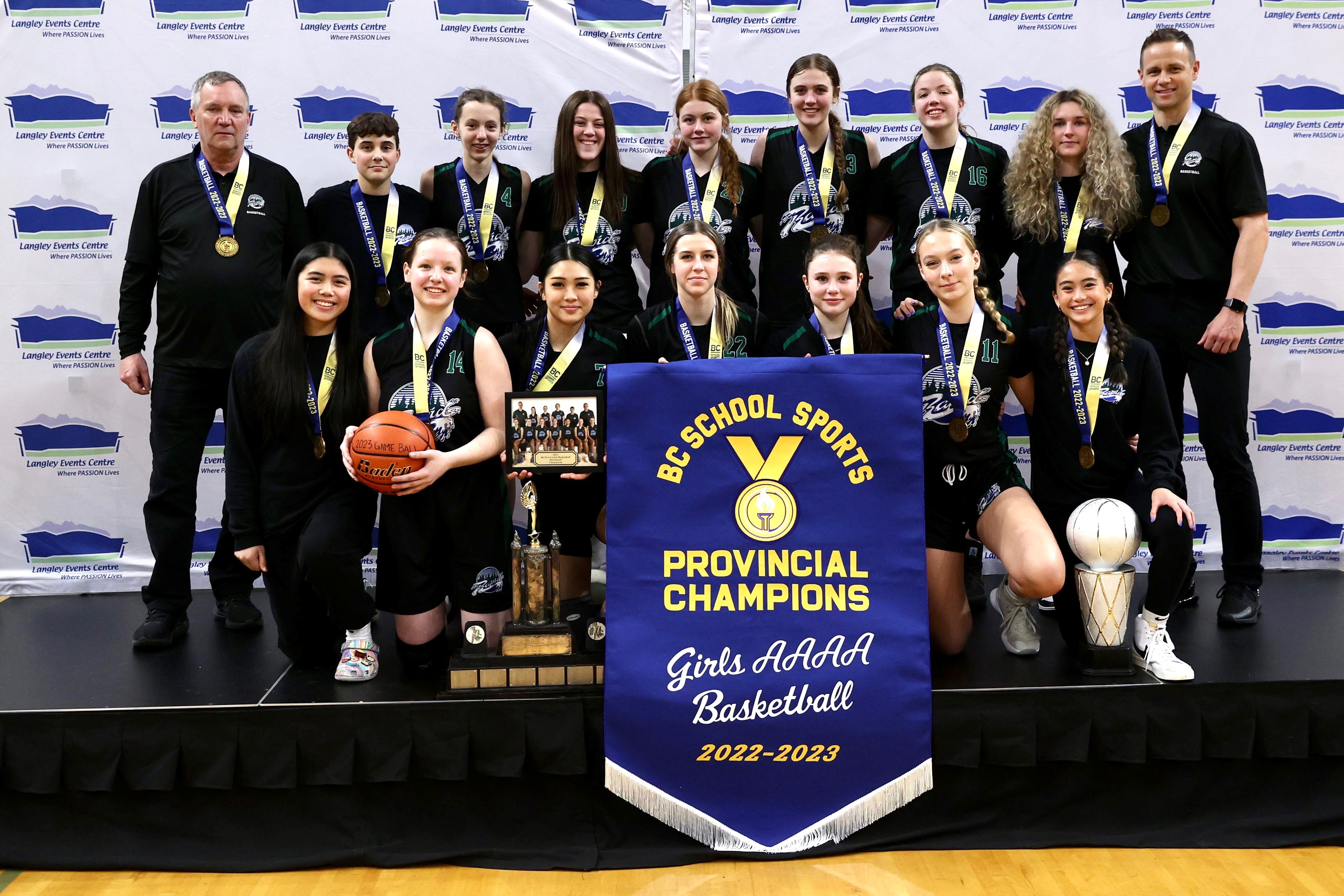 The Riverside Rapids won 70-52 over the Walnut Grove Gators to capture the BC School Sports Girls 4A Tournament title at Langley Events Centre on March 4. Garrett James LEC photo
There would be no denying the Riverside Rapids this time around.
A year ago, the team came up short, falling by two points in the championship final to Terry Fox. But on Saturday night at Langley Events Centre, it was the Rapids turn to celebrate as they defeated the Walnut Grove Gators 70-52.
The two teams were playing in the championship final of the BC School Sports 4A Girls Tournament with the No. 3 Rapids knocking off the top-seed Gators. For much of the season, the Rapids have enjoyed that No. 1 ranking, but the team was upset in the Fraser North Zone championship final to Burnaby Central.
"Our kids were in shock they weren't the Fraser North champs," said Riverside coach Paul Langford. "Our kids did not like that loss. Central is a great team and I told them 'You have to work harder.'"
And Riverside did work hard and got redemption, knocking off Burnaby Central in the semi-final round on Friday and then winning the school's first basketball provincial banner on Saturday.
Langford pointed out that his team took the same route as the 2022 champion Terry Fox Ravens, who also lost in the Fraser North zone championship final.
Facing the Gators on Saturday night in a standing-room only crowd as both schools had massive student cheering sections, Riverside trailed just once – when Walnut Grove scored the opening basket – from that point on, the Rapids played from ahead (aside for twice in the first quarter when the score was tied).
Leading the way was Avery Sussex, the Championship Player of the Game, as she scored 23 points, dished out five assists and had four rebounds and four steals.
While Sussex engineered the Riverside offence, Walnut Grove's Kiera Pemberton continued her torrid scoring as she put up another 39 points, giving her 170 over the four games of the Tournament, bettering the mark of 167 she set just a season ago. The all-time record of 171 points from Killarney's Cheryl Kelsey continues to stand, although that was set in five games.
For her efforts, Pemberton was named Most Valuable Player.
Sussex was joined as First Team All-Stars by Jorja Hart (Riverside), Ankita Chopra (Burnaby Central), Jay Hildebrand (Yale) and Jade Huynh (Burnaby Central). The Second Team All-Stars were Mav Chahal (Kelowna), Natalie Curley (Riverside), Kyana Knodel (Walnut Grove), Aida Pye (Claremont)and Nyssa Sunner (Seaquam).
The Most Outstanding Defensive Player was Yale's Samara Mason and the Most Sportsmanlike Team award went to the Mount Baker Wild.
And in the bronze medal game, Burnaby Central defeated Yale 68-63.
-30-