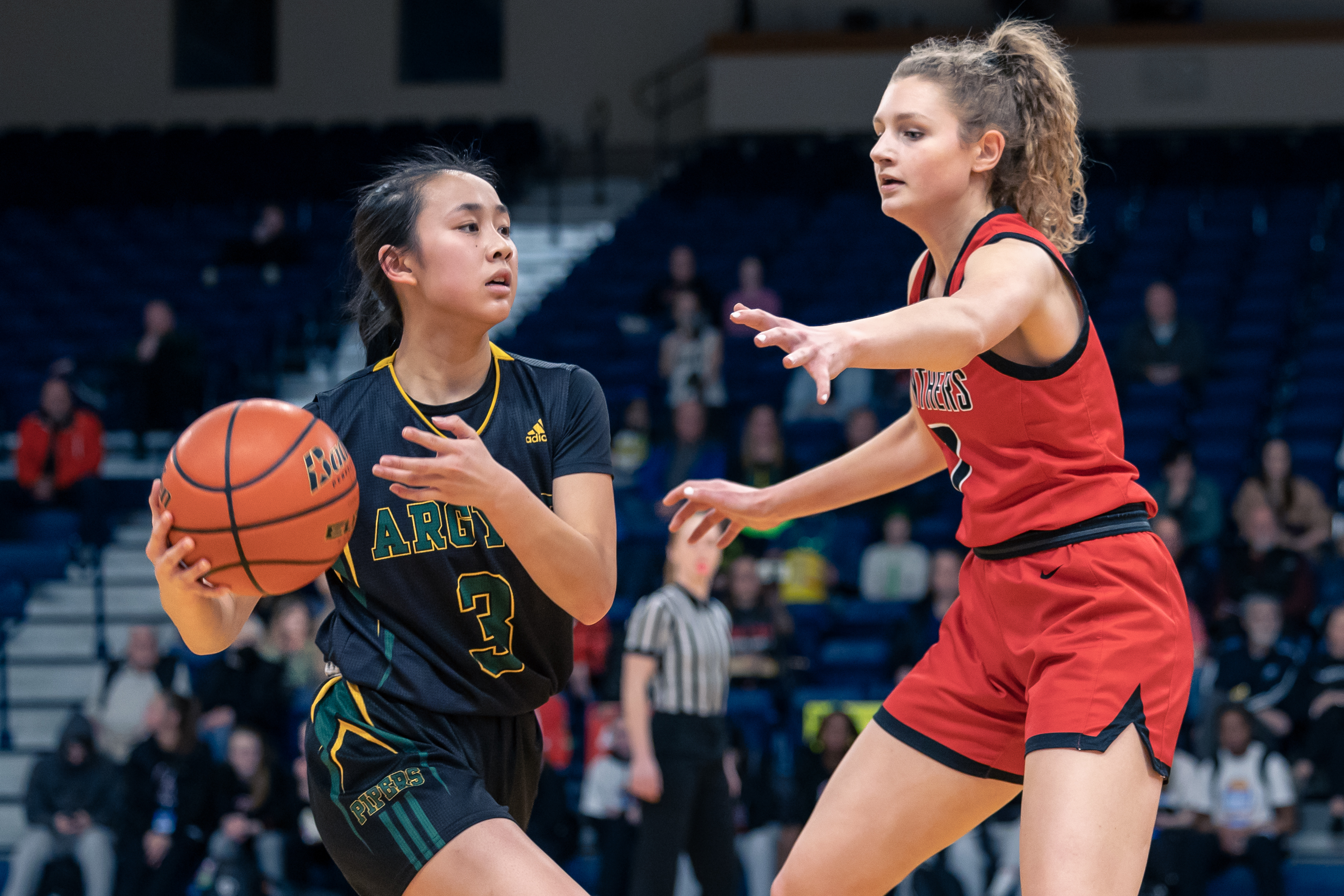 The Abbotsford Senior Panthers topped the Argyle Pipers in quarter-final action at the BC School Sports 2A Girls Basketball Provincial Tournament. photo courtesy of Vancouver Sports Pictures
It is down to the final four at the BC School Sports 3A Girls Basketball Provincial Tournament.
The past two defending 3A Tournament champions – the Abbotsford Senior Panthers (2020) and the R.A. McMath Wildcats (2022) – are set to see which one will play for the 2023 crown.
The Wildcats – who are the third seed – won 48-36 over the No. 6 Sa-Hali Sabres. The McMath defence was ruthless in the first half, holding the Sabres to a dozen points. Marina Radocaj finished with 22 points in the win while Sa-Hali's leading scorer was Temi Aina with 11 points.
The Panthers blew open a close game at the half (they were leading by five) with a 22-7 third quarter on the way to the 79-54 win for the second seed against the No. 7 Argyle Pipers. Nyah Vermeulen (26 points) and Malia Lenz (25 points) keyed the Panthers attack. Reese Tam had 20 (including six 3-pointers) for the Pipers.
The top half of the bracket features the No. 1 St. Michaels University School Blue Jags against the No. 4 ranked South Kamloops Titans. The Titans won 67-36 over the No. 5 M.E.I. Eagles behind 21 points from Lucy Marchese and Grace McDonald's 18. Bree Neufeld led the Eagles with 13.
And the Blue Jags were convincing 68-35 winners over the No. 8 Little Flower Academy Angels. Makena Anderson's 22 points led the way offensively for the S.M.U.S. Isabella Heffring had 13 for the Angels.
For full schedule, scores, game sheets and more information, please visit http://www.bchighschoolbasketballchampionships.com/
Single game and tournament passes are available for sale online. Games are also available to stream through pay-per-view at tfsetv.ca.