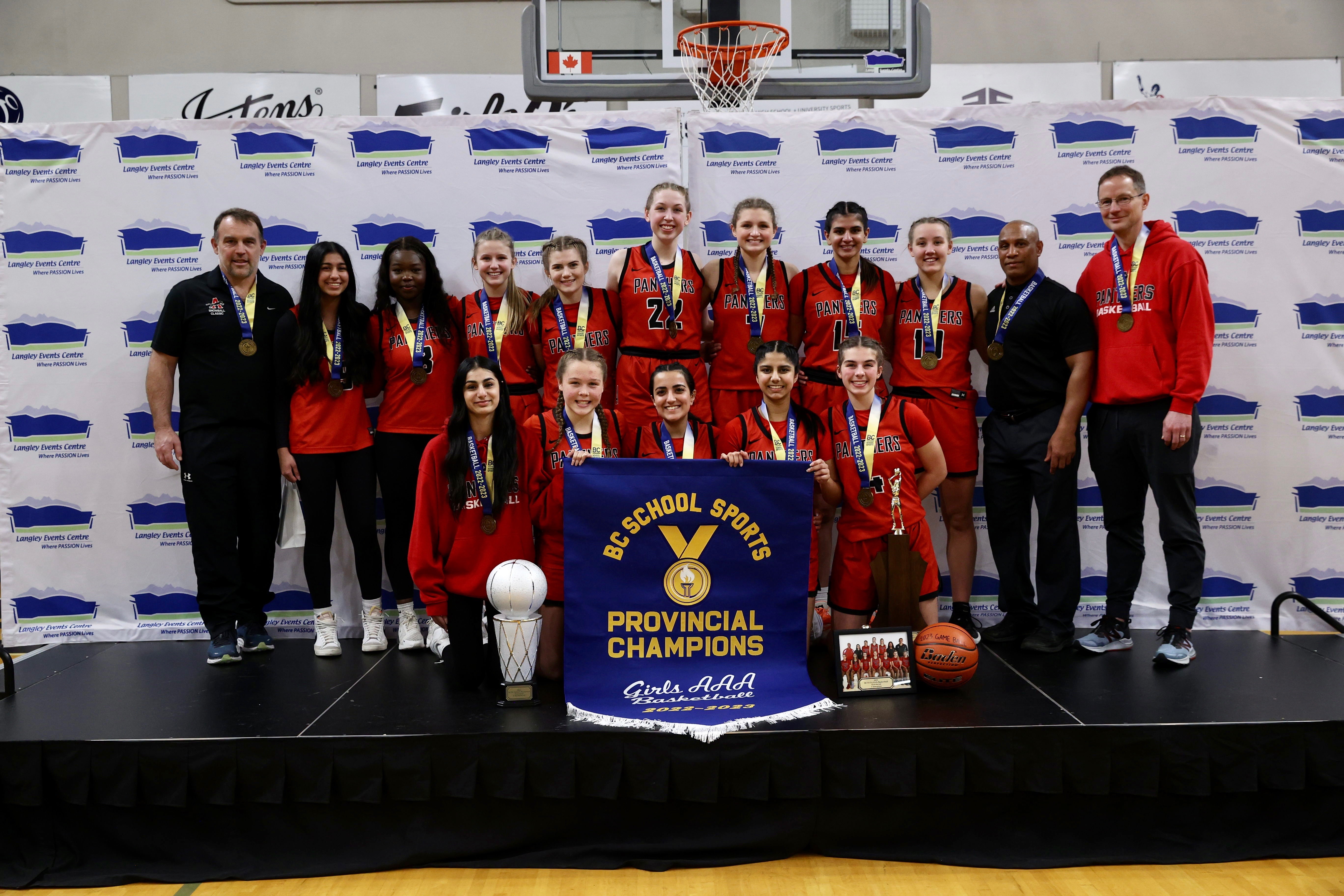 The Abbotsford Senior Panthers edged Victoria's St. Michaels University School Blue Jags 67-64 to win the BC School Sports 3A Girls Basketball Provincial Tournament title. Garrett James LEC photo
A fourth-quarter run earned the Abbotsford Senior Panthers a provincial title.
Trailing by five with 7:18 to play, the Panthers scored the next dozen points as they upset the top-seed St. Michaels University School Blue Jags 67-64.
The two teams were playing at Langley Events Centre on Saturday in the championship final of the BC School Sports 3A Girls Basketball Provincial Tournament.
It was the second title in three seasons for the second-seed Panthers, who also captured the top prize in 2020.
Malia Lenz was on that team as a Grade 9 and her coach (and dad) said that experience proved to be beneficial.
"You can't replace that (experience)," said Panthers coach Prentice Lenz about his daughter. "The only to not only be here, but to win in that scenario really helps gain maturity."
She finished with a monster game, scoring 41 of her team's 67 points, grabbed 11 rebounds, four steals, two assists and a blocked shot.
She earned both the Championship Player of the Game and the Most Valuable Player Award.
The championship final featured four ties and five lead changes with the Panthers' biggest lead at 10 in the second quarter, while the Blue Jags led by five with 7:18 to play.
"I think the difference was our big girls inside. We were able to clear the boards on that side of the floor and were able to get putbacks and Naomi's putback in the end was huge," the coach said, referencing Naomi Unger's offensive board and putback.
St. Michaels University School was led by Makena Anderson's 19 points while Alex Motherwell had 17 and Avery Geddes finished with 14.
Anderson and Motherwell were both named First Team All-Stars and were joined by Nyah Vermeulen (Abbotsford Senior), Marina Radocaj (R.A. McMath) and Lucy Marchese (South Kamloops). Motherwell also won the Most Outstanding Defensive Player award.
The Second Team All-Stars were Bree Neufeld (M.E.I.), Caitlin Kippan (R.A. McMath), Rachel Loukes (College Heights), Nathalie Francis (Argyle) and Grace McDonald (South Kamloops). Loukes was also the recipient of the Surjeet Kaur Braich Memorial Scholarship.
The Robert Bateman Timberwolves were presented the Most Sportsmanlike Team award.
The South Kamloops Titans won the bronze medal 72-53 over the R.A. McMath Wildcats.
-30-