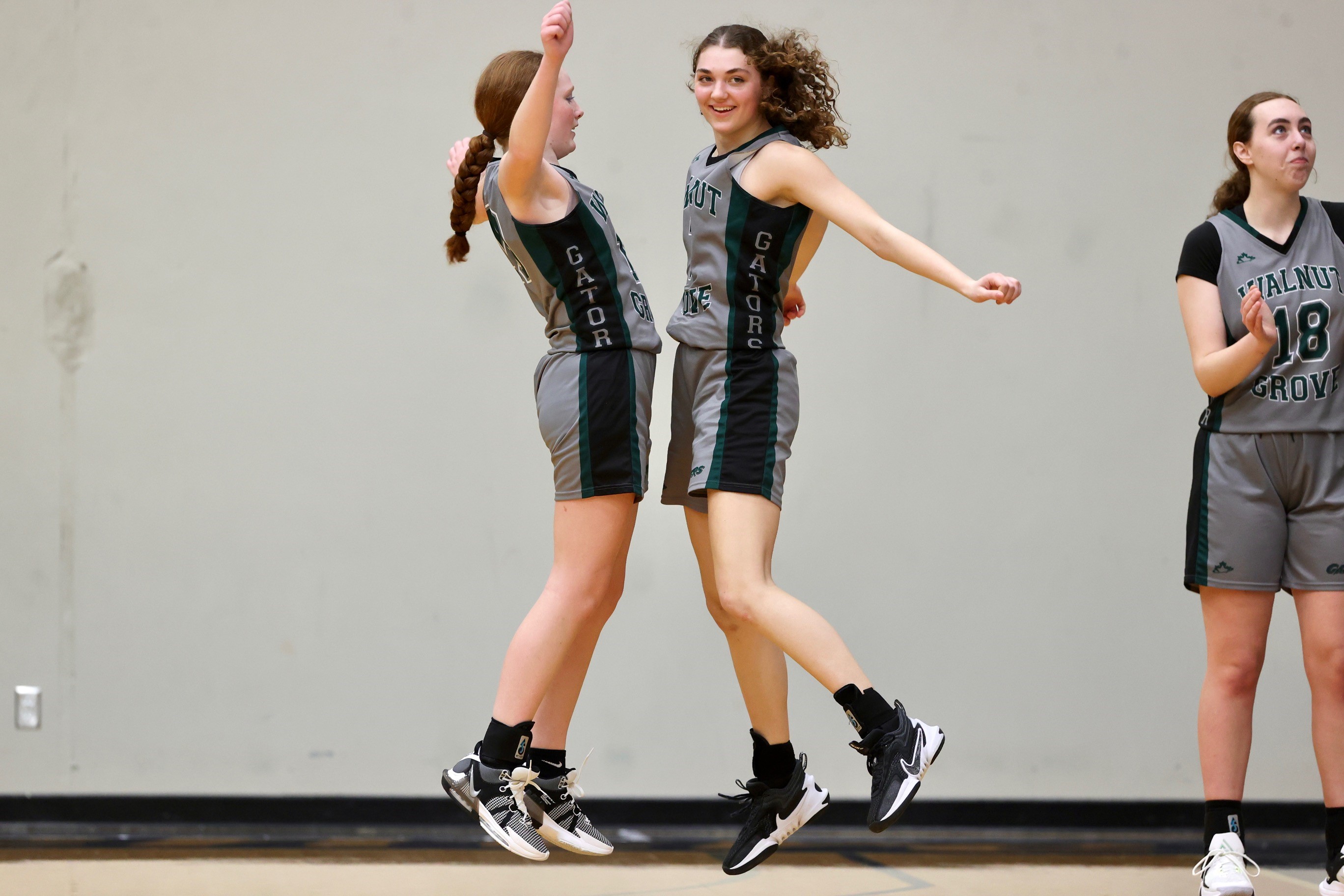 Members of the Walnut Grove Gators celebrate during their come-from-behind victory in Thursday's quarter-final contest at the BC School Sports 4A Girls Basketball Provincial Championships. photo courtesy of Vancouver Sports Pictures 
It is down to the final four at the BC School Sports 4A Girls Basketball Provincial Championships.
The top seed Walnut Grove Gators needed a late-game rally and overtime to survive as they knocked off the No. 9 Claremont Spartans 79-72. Kiera Pemberton continued her chase of the 4A Tournament scoring record as she potted another 45 points to lead the Gators into the semi-final round.
The Spartans' Adia Pye (27 points) and Iva Kalabric (21 points) led Claremont.
Walnut Grove will face the Yale Lions in Friday's semi-final round after the fourth-seeded Lions defeated the Seaquam Seahawks 77-67. Yale led by 20 at the half before the Seahawks came to life, cutting the deficit down to four points late in the fourth quarter. However, Yale would ice the game from the free throw line down the stretch as they scored the final six points from the charity stripe.
Samara Mason (22 points) and Maggy Curtis (19 points) led the Lions while Sydney Roufosse had 16 for Seaquam.
The latter matchup will be a pair of Fraser North rivals as both the No. 2 Burnaby Central Wildcats and No. 3 Riverside Rapids prevailed in their respective quarter-final contests.
Riverside was a 59-46 winner over the No. 6 Kelowna Owls as the Rapids took over in the fourth quarter. Riverside was ahead by three with 10 minutes to play but held the Owls to just six points. Avery Sussex led the Riverside attack with 27 points. Mav Chahal was tops for Kelowna with 19 points.
Burnaby Central trailed for much of the game before finally pulling ahead in the fourth quarter, winning 83-74 over the No. 7 Okanagan Mission Huskies. Jade Huynh scored 26 of her 38 points in the second half to lead the way while younger sister Jayla Huynh scored 22. Kanani Coon was tops for the Huskies with 23.
For full schedule, scores, game sheets and more information, please visit http://www.bchighschoolbasketballchampionships.com/
Single game and tournament passes are available for sale online. Games are also available to stream through pay-per-view at tfsetv.ca.