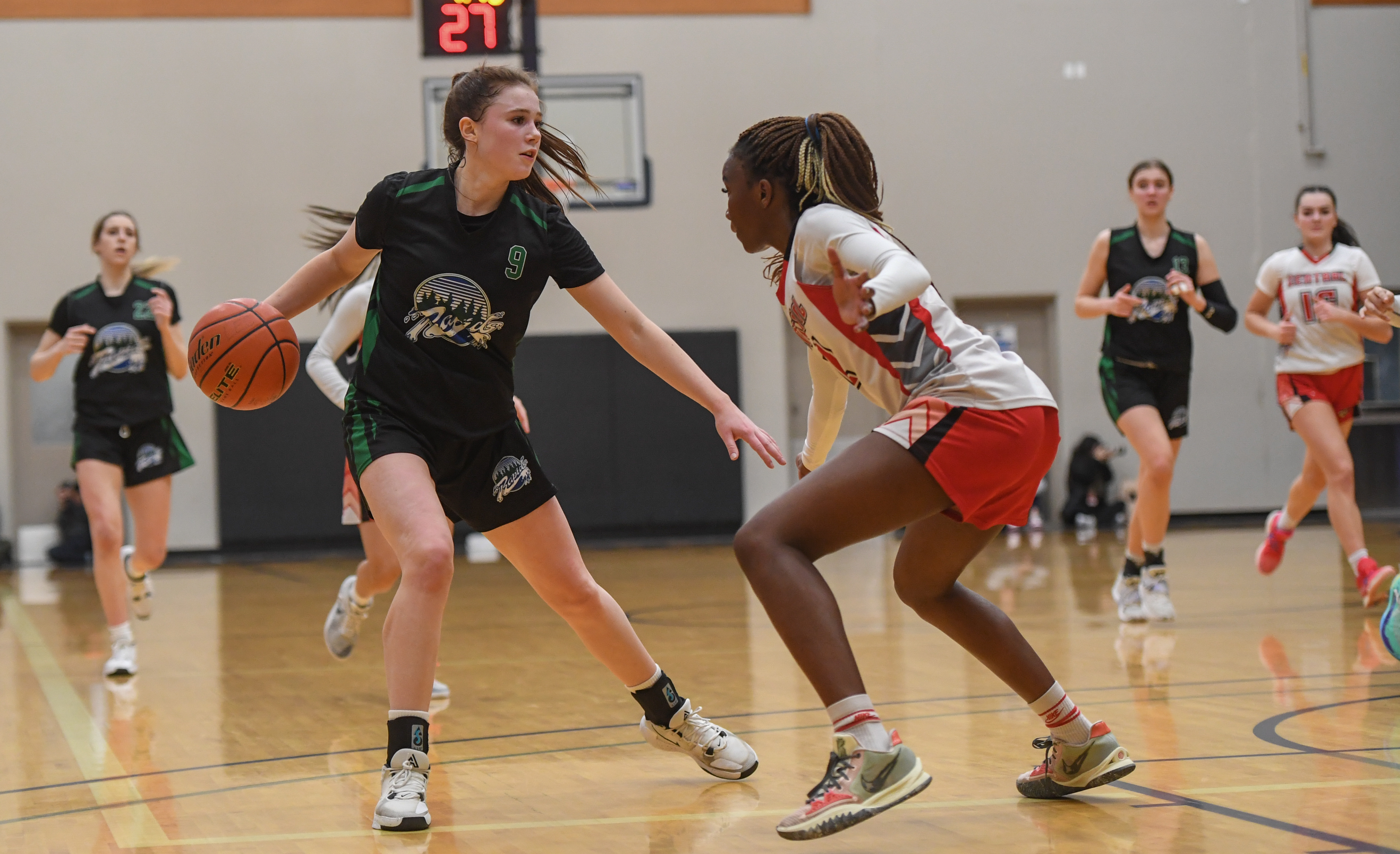 The Riverside Rapids defeated the Burnaby Central Wildcats in one semi-final while the Walnut Grove Gators topped the Yale Lions in the other. The two teams will now meet for the BC School Sports 4A Girls Basketball Provincial Title at Langley Events Centre. photos courtesy of Vancouver Sports Pictures
Two teams who finished second and third, respectively, in 2022, will play for the 2023 BC School Sports 4A Girls Basketball Provincial Tournament title.
Both the Walnut Grove Gators and Riverside Rapids won their respective semi-final matchup on Friday night and will meet on Saturday (March 4) in the championship final at Langley Events Centre as four days of basketball comes to an end.
The Rapids were the finalists at the 2022 tournament while the Gators placed third, losing to Riverside in the semi-final.
For more information, schedule, scores and game sheets, please visit www.bchighschoolbasketballchampionships.com/4agirls/
Games are also available to stream on pay-per-view at www.tffsetv.ca
Walnut Grove Gators 68 Yale Lions 55
Kiera Pemberton was held to just three points in the first quarter, but from that point on was unstoppable, finishing with 41 points, her third straight game with a 40+ point performance.
With Pemberton unable to gain any traction offensively with multiple players draped all over her, the Walnut Grove Gators found themselves down 13-9. But the second quarter was a different story as Pemberton took over with 16 points while Tia Rowell knocked down a pair of huge 3-pointers for a 35-29 lead at the break. The teams went point-for-point in the third period – 21 for Yale and 20 for Walnut Grove but the Lions struggled in the fourth with just eight points.
Pemberton also finished with 15 rebounds, six steals, a blocked shot and an assist, while Kyana Knodel scored 11 points and grabbed seven rebounds. Yale's Maggy Curtis had 23 for the Lions.
Riverside Rapids 56 Burnaby Central Wildcats 46
A two-point game at the half, the Riverside Rapids pulled ahead in the third quarter to book their second consecutive appearance in the title game.
Avery Sussex was the catalyst for the Rapids offensively with 29 points, 8 rebounds, 4 steals and a pair of assists, while Natalie Curley finished with 12 and Jorja Hart had 11. The Wildcats' Jade Huynh and Ankita Chopra each scored 18 points.
-30-