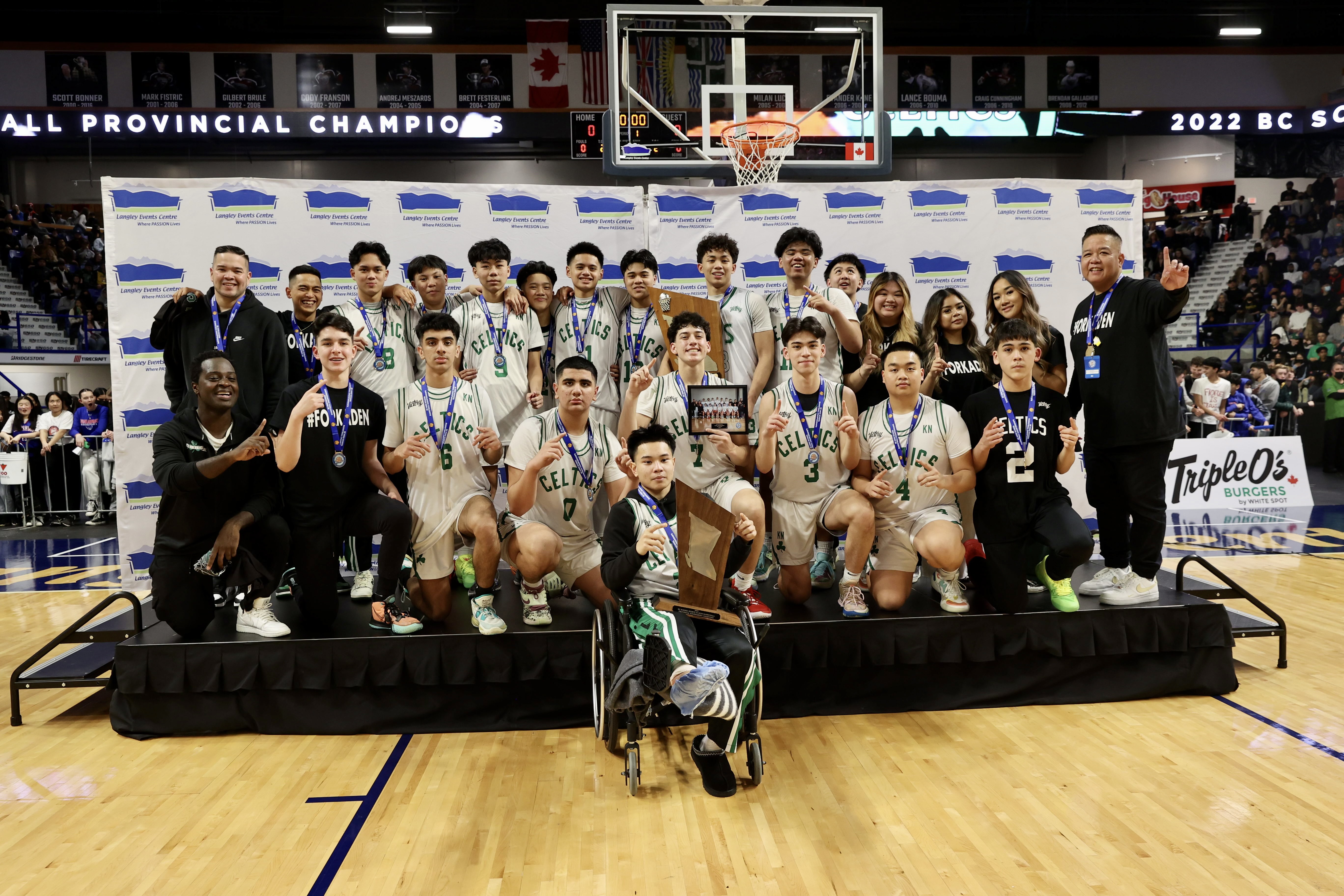 The St. Patrick Celtics used a fourth-quarter rally to secure the 3A Tournament championship on Saturday at Langley Events Centre. Garrett James Langley Events Centre photo
After trailing for almost the entire game, the St. Patrick Celtics were sparked by Irish Coquia for a furious fourth-quarter rally.
The Vancouver school – which was the top seed – faced the No. 2 Elgin Park Orcas in Saturday's BC School Sports 3A Boys Basketball Provincial Tournament championship game at Langley Events Centre, trailing for much of the contest before prevailing 56-52 for their first 3A Tournament title, and fourth overall, having won the 1A title (1990, 1995 and 2010).
"It came late, but it clicked at the right time," said Coquia, who was named Tournament MVP – the same honour he won in 2020 when the Celtics captured the Junior Basketball Provincial Invitational Tournament.
For three quarters, the St. Patrick offence looked nothing like the one which had scored an average of nearly 90 points per game in their first three contests of the 3A Tournament. In fact, the Celtics mustered a measly eight points in the opening 10 minutes as they connected on just three of 18 field goal attempts.
If anything, the Celtics should have been energized by having guard Kaden Carrion on the bench with them after the guard suffered a devasting ankle injury in the quarter-final and was in surgery while his teammates battled in Friday's semi-final game.
Regardless, the team was in a 23-8 hole against a team which has yet to lose this season to a 3A opponent.
"I got them to close their eyes and visualize all the good things they had done all year long – make a good pass, box out, rebound, when you take your shot, follow through," explained St. Patrick coach Nap Santos.
"Don't think of the negative things that happened, think about the positive things we are going to do."
The Celtics cut the deficit from 15 to six at the half and it remained the same through three quarters. But after shooting just 27 per cent (14-for-52) through 30 minutes, the St. Patrick offence awoke and connected on seven of 12 field goals (58.3 per cent) to outscore the Orcas 22-12 for the 56-52 win.
"It was all about putting in the work. If they didn't put in the work, they wouldn't' be here. They committed to it and bought in, and this is the result," Santos said.
Coquia – a Grade 11 guard — took over in the fourth quarter and finished with 29 points, six rebounds, three assists and three steals and was named Championship Player of the Game.
"I pulled him aside when there was a free throw and just told him 'this is your time,'" Santos said.
Joey Panghulan – who was named a Second Team All-Star) was the only other Celtics player to reach double digits, scoring 13 points and grabbing a team-best seven rebounds as the Orcas dominated the boards 48-25.
Lucas Roling led Elgin Park with 16 points and 12 rebounds while Adam Olsen finished with 14 points.
Olsen, Everett Swaim (A.R. MacNeill), Tarrence Booker (St. Thomas More Collegiate), Cole Laing (Duchess Park) and Will Zylyk (Okanagan Mission) were named First Team All-Stars while Evgeny Baukin (Duchess Park), Josh Mayan (A.R. MacNeill), Panghulan, Temwa Mtawali (Mark. R. Isfeld) and Cyrus Harrison were named Second Team All-Stars.
The Princess Margaret Lions were awarded the Most Sportsmanlike Team Award.
In the third-place game, the A.R. MacNeill Ravens defeated the Duchess Park Condors 68-59.
For complete results, visit www.bchighschoolbasketballchampionships.com.
-30-
For more information: